"Athlete Testimonials"
I used to crossfit over a year ago but moved to a different area and never really got back in to it. I thought I would save some money and join a gym and was motivated in the beginning but slowly it just got boring and repetitive to the point where I lost all motivation and barely went. I started to miss CrossFit so much so thought I would try one in the area, I tried a couple but wasn't completely happy with the trainers or it just wasn't in a location that suited me. Finally CrossFit Croydon opened! I was referred there by a friend who used to work with Sarah and Eric as a personal trainer, she couldn't speak highly enough of them so I decided to give it a go.
I was blown away by not only how professional their business looked at first glance and that they offer yoga free to members but how friendly and knowledgeable they were, I clicked with them straight away. I have been there for nearly 2 months now and I have never seen such a fast improvement with my skills! People are so scared of Crossfit and always give me a look when I tell them that's what I do but these coaches have such an holistic approach to their training and make mobility a huge priority, it isn't about who is the strongest or the fastest, they concentrate on technique and doing things properly so we avoid any injuries that crossfit is "known" to cause. In fact, Crossfit Croydon has done the opposite for me, my entire life I have always had problems with tight hips but now after the right guidance I can finally do movements like squatting without any pinches or niggles.
These two understand how the human body works and didn't just wake up and decide they were going to open up a Crossfit gym, they live and breathe this lifestyle and I am so grateful I have met them and for them to share their knowledge. I can safely say I am addicted because I see so many improvements within myself every time I go there. I couldn't ask for better trainers or a better community to train within!" Kylie
​
"I joined Crossfit Croydon in March, and have been amazed at the results I have seen in such a short period of time. I'd always gone to the gym, played sport and run. But the last few years I'd really just been going through the motions and finding the exercise really boring. This lead to a loss of motivation and a real loss of enjoyment in activities that I'd previously loved. A friend suggested I try Crossfit in Croydon. I was skeptical as I'd met people who were into this stuff and found some of the behavior to be very off-putting. But I thought why not? It was the best decision I've ever made for my health and well-being. The coaches were not only welcoming, but genuine and warm immediately. The environment I walked into was so calm and friendly that I felt part of the crew straight away. And the people that are part of Crossfit Croydon are awesome in their attitude. Everyone is overwhelmingly positive and even when I feel down or upset that I can't do something, the coaches are only ever kind and supportive. I'm certainly no super athlete, and I'm not a gym junkie addicted to my muscles. I just care about my physical and mental health. And Crossfit Croydon has already contributed to a clear improvement in my physical and mental health, in a supportive, caring and positive environment. I can't speak highly enough of the coaches and my gym mates at Crossfit Croydon. Certainly words aren't enough to express my gratitude toward Sarah and Eric for allowing me to be a part of the Crossfit Croydon family. I may not always look forward to going every day, I may be tired, sometimes my body aches, but then I go and I am always thankful I've been." Michael
Powered by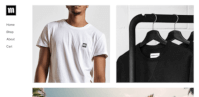 Create your own unique website with customizable templates.