Every year during June and July I receive about five cancellation forms due to people lacking motivation. So here are my three top tips to keep you getting your fine booty in to the gym:

1. Make it a habit - motivation wont outlast a habit. If you need to sleep in your activewear to ensure you get out of bed and off to the box for an early session, do it. Make it easy for yourself and after about two weeks of making your new routine stick, you will have created a habit.

2. Set a goal - find a goal that fits your reason for training, something that is achievable and rewarding. I trained every week doing the boring strict chin ups and ring dips and practicing transitions for five years, but when I got that muscle up it was SO worth it. I bet when you can feel confident taking your shirt off at the beach this Summer, you wont regret making it to the box three times a week. Even if you just want to make your life a little easier and be able to achieve a day on the tools without pain, there will be a goal and a path to achieve it.

​

3. Surround yourself with support - studies continually show that you are more likely to attend the gym if you make an appointment with a personal trainer, a friend or a whole community of people that you know will cheer you on. Topics of discussion can include how many layers of clothing to wear to training :)

The CrossFit Croydon tribe is ready to keep you on track to reach your goals, feel amazing and consistently deliver the best hour of your day!

We believe that you'll love it so much that we are offering YOU a winter warmer special of training with us for TWO weeks FREE. This is something we have never offered before! On July 3rd, 5th and 7th you can attend an On Ramp class at either 7am or 6.30pm. From Saturday the 8th to Saturday the 18th, you can attend a WOD each day and get a great feel for our community and exceptional service.

To book in please visit:

crossfitcroydon.sites.zenplanner.com/freeTrial.cfm

and book in on the 3rd, 5th and 7th at your preferred time or call me today on 0423618308.
Powered by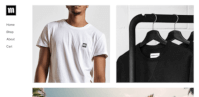 Create your own unique website with customizable templates.