​This time 1 year ago, I was feeling ready to get back into exercising after a long recovery giving birth to my son via emergency c-section. I looked a quite a number of places to train, but my biggest concern was making sure I didn't damage my body while it was still healing, and to ensure I prepared my body in the best way possible for future pregnancies. I was referred by a family member to go and see Saresy as she was an expert in all things pre and post natal. After attending a Crossfit Mumma's trial session I was instantly hooked. The first session was gentle as Sares focused on abdominal separation and pelvic floor, and I knew from then that this was the best path to ease my way back into training. I attended Mumma's three times a week for four months, bringing my son to every session. I loved watching his tummy time while I worked out and seeing him interact with the other babies. Without fail, every class was interrupted by my son! Whether it was to stop and breastfeed, or go grab my ergo to continue the work out whilst baby wearing, I had to attend to him each class! Not once, did I ever feel like we were disturbing the class by this, we were actually encouraged to do so.

Four months in I felt ready to step in up a notch. Watching the weightlifting and WOD's I thought "I want to do that!" so I slowly transitioned from Crossfit Mumma's into the standard classes, guided by Sares and the other coaches. All of a sudden I was amazed in the change in my body, no longer feeling like I had just been cut open, I felt like my old self again. When I had my emergency c-section, I was hysterical, not only because I didn't get the birth I had dreamed of, but I thought that that was it for me, that I would never be able to loose the baby weight and be strong or fit. I was so wrong! I am back at my pre baby weight, and am much fitter and stronger than I was pre pregnancy. None of which I could have achieved without the guidance of Saresy.

These days, I still bring my son to most work outs and still, without fail, my workouts are interrupted by him. Like always, I grab my trusty ergo if need be, and the coaches scale my movements so I can complete the WOD whilst baby wearing.

I also LOVE Crossfit Croydon that much I now work there! I strongly believe that you need to surround yourself with like-minded people in order to achieve your goals and CFC is the perfect environment to be in and to bring up my child, to maintain a healthy life!
​
So, one year on, runner up in the Winter Wellness Challenge for the transformation category, equal first in the attendance category, a trip to Bali with the CFC crew, 20kgs down, and there is no turning back for me!!

Check out Bree's amazing transformation:

​


Powered by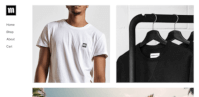 Create your own unique website with customizable templates.