Community is King
At CrossFit Croydon we thrive on community. Since our inception we have gathered an incredible group of like-minded individuals all striving to better their own fitness and encourage their fellow CFC athletes. We run together, we squat together, we sweat together and at the end of every session our members leave the gym a better version of themselves. Come and try us out for FREE today, to experience the support that makes us the friendliest box in the eastern suburbs.
Quality Coaching
We have extremely dedicated coaches that practice what they preach. Each of our coaches holds their Level 1 Certificate, most have their Level 2 and each has a background that is just as diverse as our members. From Gymnastics, Athletics, Team Sports and University degrees, our coaches have the knowledge and experience to deliver clear and accurate instruction to our athletes. Each of our members receives the quality one on one time they need to achieve their goals whilst training in a group setting.
The Facility
Our Box has been custom built and fitted out solely for CrossFit and Yoga. All of our equipment has been selected for its performance, durability and safety, ensuring that our athletes train in the best conditions possible. We have a 25m sled track, wall mounted pull up bars, premium bumper plates, rowers, assault bikes, GHDs, all the mobility equipment you could ever need and much more. Our Yoga space is designed for you to get your om on. We have a full recovery room with an infra red sauna and massage treatments available. Again Faster are our supplier of choice, and we love the smooth set up and quality of each piece of equipment.
Our Methodology
We run on a linear program that sees our athletes improve their skills, balance and foundational strength, their speed and power and also their Olympic weightlifting and complex gymnastics movements. We custom design almost every workout to suit our members needs and goals and everything we do is scalable. We are also one of the few boxes that follow their own program to ensure our athletes remain free from over use injuries and continue to enjoy their training experience.
Powered by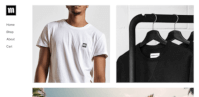 Create your own unique website with customizable templates.